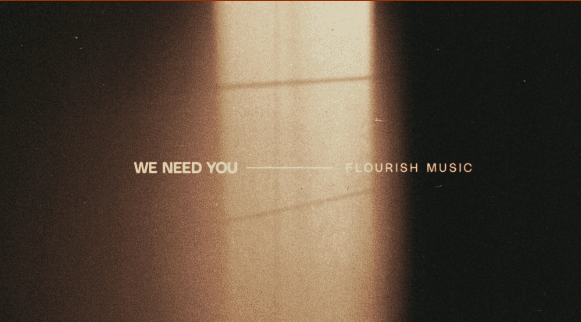 Flourish Music's new single, We Need You, is available now on digital platforms.
The Austin, Texas-based collective, who's heart is to equip the local church with meaningful and creative gospel-centered songs, declares the need for a Savior in their latest release.
"We Need You is an anthem of desperation. In a culture that tells us to worry, fear, be anxious and make our own way, this song is a reminder that our true hunger and thirst can only be satisfied in Christ. We need him every hour, every day, every moment," says Jonathan Hunt of Flourish Music.
Produced by Michael Guillot and Austin Davidson, and written by Tyler Daniel, Guillot and Davidson, We Need You reflects the heart cry of a community dependent on the presence of God.
"When we surrender we give up our own desires for the sake of the Father's desires. We don't do this simply out of dutiful submission, but out of a desperate longing for God, for His ways, and His presence — this is what it means to hunger and thirst for the Lord," says Hunt. "We are declaring that we are no longer in control and that His ways are better. God alone can truly satisfy. We long for that full and complete satisfaction in him."
Flourish Music hopes We Need You will leave listeners desiring more of God and desperately craving His word and presence above all else
"We hope that this is a song that the Church adopts as a heart cry. We hope that this song is shared among friends and family because it is a truth that we all need to be singing," Hunt shares. "We hope that worship leaders connect personally with this song in their private times of worship and then feel called to lead it corporately. We hope that if nothing else, God is glorified, and when worshippers are at a loss for words on how to respond to the Lord, We Need You becomes a memorable anthem for their lives."
WATCH VIDEO BELOW