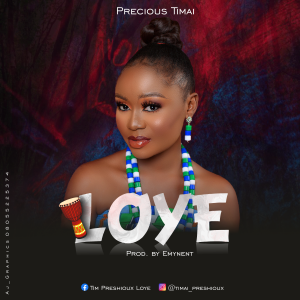 Nigerian music artist Precious Timai based in Kogi State is out with a new song Loye to encourage and strengthen every listener.
The song LOYE which is translated to mean progress was rendered in English and Bassa-nge language. Speaking further about the song, she revealed that bad experiences and situations in her life were the inspiration behind the song.
Despite the ups and down where all hope seems to be lost, she kept the faith looking unto Jesus and at the end it ended in thanksgiving.
The song was blended with a popular hymn with the phrase "move on, move on don't be tired, my Saviour understand it shall be well".
May this song encourage you in your troubled and weary moment because Jesus sees and hears your cry and He's going to wipe your tears, so keep moving.
DOWNLOAD MP3: PRECIOUS TIMAI – LOYE 
ABOUT ARTISTE
Precious Timai hails from Bassa Local Government Area in Kogi State where she also completed her university program. She's a member & serving as a chorister at the Calvary Bread of Life Ministry.
Having love and great passion for music, she ventured into song writing in conjunction with the singing.
This is just but a start as she's working on releasing more songs soon.