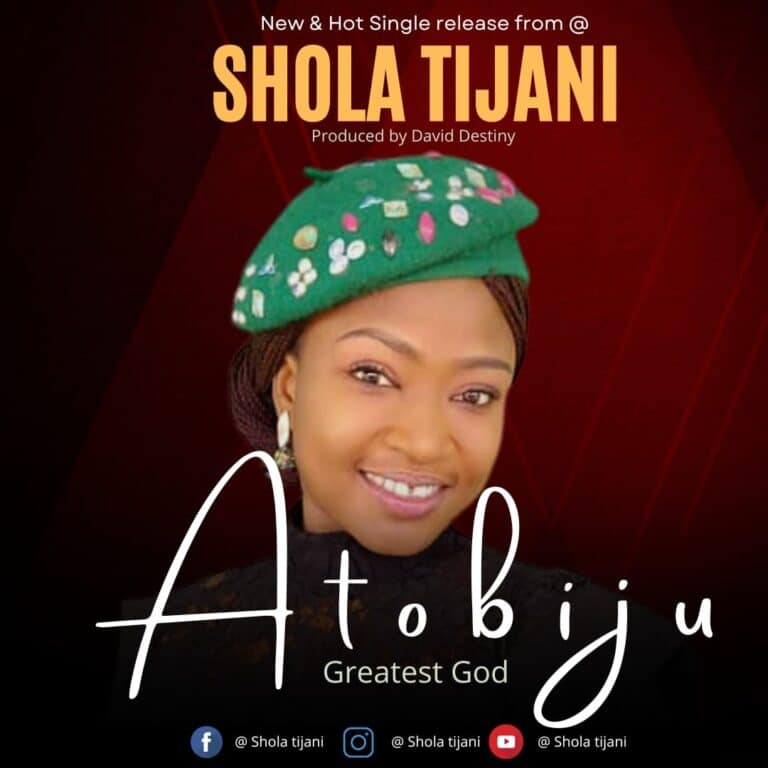 Minister Shola Tijani is a seasoned vocalist and worship leader who has stayed true to the mandate of inspiring believers to connect with God in genuine worship on a consistent basis.
Shola Tijani debut single "Atobiju (Greatest God)" produced by David Destiny conveys an atmosphere of deep reverence for the Almighty.
Are you seeking to connect with God on a more intimate level?
Do you want to command a rich experience of His mighty workings in your life from time to time?
Lyrics: SHOLA TIJANI – ATOBIJU
Verse 1
Lord you are the mighty God
Immortal the Lord most high
The mighty God
Lord you are the mighty God
Master ruler oh most high the mighty God
All of creation bows
Giving you all the praise
You are master, ruler oh most high God
Chorus
You are great
Atobijulo niyin
Odogwu naya
You are the most high
You are great
Atobijulo niyin
Opomulero o
You are the most high
Verse 2
Oba mi
(My king)
Ololufemi
(My lover)
You brought me out from the miry clay
The mighty God
Aran ni nise Jese domo
(He gives us an assignment but has gone ahead of us to complete it)
Ojo wawawa tin jare de eniyan
( The abundant rain that soothes every human distress)
Ona ope mi po lodore
( You are deserving of my praise in numerous way)
Baba mimo
( The holy one)
Chorus
You are great
Atobijulo niyin
Odogwu naya
You are the most high
You are great
Atobijulo niyin
Opomulero o
You are the most high
Lyrics: SHOLA TIJANI – ATOBIJU
Verse 1
Lord you are the mighty God
Immortal the Lord most high
The mighty God
Lord you are the mighty God
Master ruler oh most high the mighty God
All of creation bows
Giving you all the praise
You are master, ruler oh most high God
Chorus
You are great
Atobijulo niyin
Odogwu naya
You are the most high
You are great
Atobijulo niyin
Opomulero o
You are the most high
Verse 2
Oba mi
(My king)
Ololufemi
(My lover)
You brought me out from the miry clay
The mighty God
Aran ni nise Jese domo
(He gives us an assignment but has gone ahead of us to complete it)
Ojo wawawa tin jare de eniyan
( The abundant rain that soothes every human distress)
Ona ope mi po lodore
( You are deserving of my praise in numerous way)
Baba mimo
( The holy one)
Chorus
You are great
Atobijulo niyin
Odogwu naya
You are the most high
You are great
Atobijulo niyin
Opomulero o
You are the most high