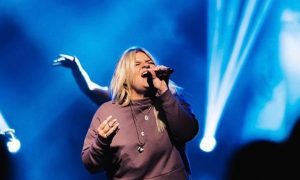 Emerging worship artist and songwriter Anna Golden releases the official live video for "There Is A Time," which can be viewed below. "There Is A Time" is from Golden's debut full-length project, Peace: The Album.
At just 24, Anna Golden is at the forefront of a new wave of artists who are redefining the sound and style of worship music, both inside and outside of the church. With versatility to weave congregational worship with her refreshing new take on worship, and with a voice and passion that runs along the veins of artists such as Maverick City, Young & Free, Steffany Gretzinger, and Kari Jobe, the listener will quickly fall in love with what Anna Golden unabashedly offers with her live and studio tracks.
Peace: The Album is available now to download or stream.
WATCH VIDEO BELOW
Lyrics:
There is a time for weeping
To mourn with those who've lost
There is a time for healing
For righting what is wrong
There is a time to gather
And a time to refrain
But it's always time for worship
And it's always time for praise
Hallelujah
You are God in every season
There is no moment You go
Hallelujah
You are with me, I believe it
Command my spirit to know
You are God, and You're always good
There is a time for building
To gather and to grow
There is a time for reaping
A harvest overflow
There is a time for breakthrough
And a time to rest and wait
But it's always time for Jesus
The name above all names
My Rock, my firm Foundation
My Hope on which I stand
The Holder of my future
Beginning and the end
I trust You in the waiting
And in the harvest time
Through seasons ever changing
Your praise will always rise