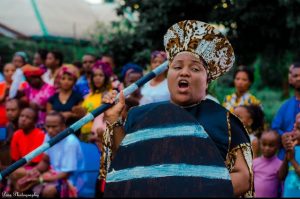 Here's the official video to track one Ogbo Ogu which is off Chioma Jesus recently released album "Chiomalized".
The African warrior themed video was shot by legendary video director Avalon Okpe.
Get the song, its lyrics and the video below and don't forget to share with your friends and loved ones.
WATCH VIDEO BELOW
LYRICS
Ogbogu dikwa tight
(There is danger)
Ma na Jesus ayi bu onye nmeri
(But our God is a winner ma)
Eze Jesus nokwa na ogbogu oh..
(King Jesus is in the war front)
Opara chineke inokwanu na ogbogu
(Son of God you are in the war front)
Umuchineke bile ayinona aha
(Children of God arise we are in the war front)
Ayino na aha ma na ahuja ima ni me
(We are in the war front but am not afraid)
Aha iyi na,ebu obugi aha onu ahu
(The battle is not a physical fight)
Kama obu aha ime nmuo
(Is a spiritual battle)
Imegide ekwensu na ndi oruya
(To fight against the devil and his agents)
Megide ekwensu na ndi nile na agara ya ozi
(Fight against the devil and it's agents)
CHORUS:
Eze Jesus nokwa nu na ogbogu
(King Jesus is in the war front)
Opara chineke inokwanu na ogbogu
(Son of God is in the war front)
Nmuo kammuo ibatago na ogbogu
(The greater spirit has join the battle)
Ebube eligwe inokwanu na ogbogu
(The glory of heaven is in war front)
Ndi aha eligwe nokwanu na ogbogu
(The soldiers of heaven is in the war front)
Angel Michael inokwanu na ogbogu
(Angel Michael is in the war front)
Ebube nbaraigwe isokwanu na gaogu
(The glory of heaven is in the battle)
SOLO 1:
For He that is in me
Is greater than him that is in the world
For I know that my father is always with me
For he that dwelleth in the secret of the most high
Chioma Jesus I shall abide under the shadow of the almighty
Nwa nna ya deyere oshie na eji uwu ya agbawa egbe
(He that puts his trust on God will do exploit)
Adigi Ari ose elu
(You can not fight God)
Okirikiri ka Ana agba ukuose
(But u will bow before God)
Nkwere Hara ukwuosisi aka agparaya
(If you leave God you are gone)
Umuchineke adigi eji nwa agu atuaja
(Children of God you are not for sacrifice)
Onye so isimu rewaja ya were nke ' ya suo
(Who ever wants to kill me will kill himself)
Ocheatara nkeojo ogamemuo..Asim aka bikweya nala
(Who ever that digeth a pit for me shall fall inside)
Touch not my anoited and do my prophet no harm
Says the Lord of host
CHORUS:
Eze Jesus nokwa nu na ogbogu
(King Jesus is in the battle)
Obaramu agagi awu na ogboro uzo
(My blood will not pour on the road)
My head is not for sacrifice
I shall travel in peace
Come back in peace oh
Ayi bu ndi nmerioh…
(We are winners)
SOLO 2:
Onye emetula nwa agu aka nodu
(Don't touch the Lion's tail)
Ma odindu ma owuruawu
(Weather dead or alive)
Ekwensu asimgi chakwaram nu uzo
(Devil get out of my way)
Nwa ekwe puoromu nu uzo
(Child of devil get out of my way)
Ebumu oku nmmoso
(Am carrying the fire of the holy ghost)
I am made by fire
I am made in the image of God
Touch me not
Ihe isike asimgi chakwaram nu uzo
(Hardship get out of my way)
Owuike Nile asimgi chakwaram nu uzo
(Surden death get out of my way)
Nke nke nmuo asimgi chakwaram nu uzo
(Small small demons get out of my way)
Eze Jesus obatago na ogbogu
(King Jesus has joined the battle)
Obodo ederego gem gem
(There is calmness everywhere)
Obodo ederego gem gem
(There is calmness everywhere)
Obodo asuwago yaga yaga
(Earthquake every where)
Obodo ederego gem gem
(There is calmness everywhere)
Nnukwu nmawu Bata no obodo
(When the greater God enters the city)
Obere nmawu agbaoso
(Small god's will run away)
Imana odigieshe, odigieshe neme Jesus
(I am filled with the spirit of God nothing happens
CHORUS:
Eze Jesus nokwa nu na ogbogu
(King Jesus is in the war front)
Ebube eligwe isokwanu na gaogu
(King of glory is in the war front)
Ekwensu kwara ibugi laws
(Satan pack your load and go)
Amugi nwa puoromu na uzo
(Barrenness get out of my way)
Eze Jesus nokwa nu na ogbogu
(King Jesus is in war front)
Aha Nile agagi eri isimuo
(The battle Will not take my head)
Eze Jesus nokwa na ogbogu
(King Jesus is in war front)
Eze Jesus nona ogbo
(King Jesus is on board)