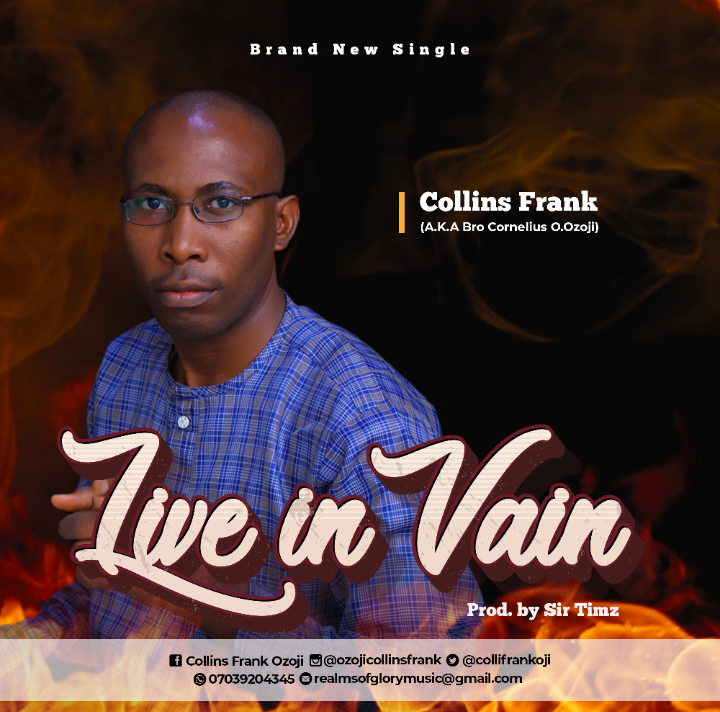 Collins Frank, a gospel music minister, releases Live in Vain.
"Live in vain" is a track from his album "Champion" released in May 2019. He decides to make it available for free download today, October 1st, for all Nigerians to listen and ponder over it during this year's independent celebration.
The book of Amos 3:3 says "Can two work together without agreement"?
Disagreement can only lead to disaster. "LIVE IN VAIN" is a song of peace, a song that stresses the need for peace not only in Nigeria but all over the world. Embracing each other is all we need to move forward. LET LOVE LEAD!
ABOUT ARTIST
Collins Frank is also known as Bro Cornelius Ogechukwu Ozoji is from Ehime-Mbano LGA, Imo State but resides in Kano state. He is a seasoned composer, arranger, and multi-talented instrumentalist. His first album titled 'LIGHT MY WAY' was released in June 2011 and his second album titled 'CHAMPION' was released in May 2019. His single track 'AKA CHUKWU' where he featured Gospel Angel was released on January 2020 while 'ONYE MME MME' a single track also was released during his birthday celebration in May 2020. Master of Possibilities a single track also was released on Easter day April 2021.