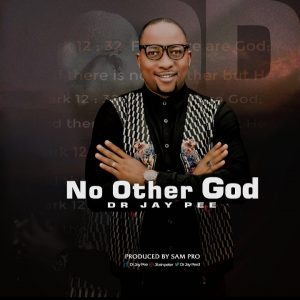 Following the release of his debut single titled 'Oghene doh' in October 2019, Dr Jay Pee drops his second single titled 'No other God'.
He is a practising medical doctor, pastor, worship leader, vocalist, songwriter and composer with ever green passion for gospel music, having begun his musical career in his undergraduate days with 'New Xpressions', a nationally famous gospel music group back in the 1990s.
In today's world, the decision to remain a true child of God comes with trials and temptations orchestrated from the kingdom of darkness, which aim to make the believer bow in worship to Satan's influences and manipulations, in a bid to spite the only true God.
Like it was in the days of Shadrach, Meshach and Abednego, the pressure of every saved child of God to bow to another god is still very much on in today's world.
This song titled 'No other God' is a strong reminder and reverent affirmation of the sovereignty of God as the only true God in our lives as believers, and that besides Him, there is no other God we will serve (Luke 4:8).
GET NO OTHER GOD ON DIGITAL STORES
DOWNLOAD MP3: 3DR JAY PEE – NO OTHER GOD 
WATCH VIDEO BELOW
LYRICS
VERSE 1
I have no other God but You
But You (2x)
You are the only God I know
Elshaddai
No other God but You
There is no other living God
Who rules and reigns
All other gods are the works of men
They have mouth but they cannot speak
UNISON 1
For You are my Lord and King
Forever Your name is glorified
You are the only God I serve
Forever You will be magnified.
CHORUS 1
No other God (2x)
There's no other God but You
No other God (2x)
Only You are God (2x)
VERSE 2
I have no other God but You
You, You
Who lives and never dies
You are the only God I love
Elohim
The only God I love
You are the only living God
Who reigns in majesty
All other gods are the works of men
They have eyes but they cannot see
UNISON 2
For You are my Lord and Friend
Forever Your name is lifted high
You are the only God I praise
Forever my praise will rise to You
CHORUS 2 (2x)
No other God (3x)
But You
No other God (2x)
Only You are God (2x)
Na ni gi bu chi (4x)