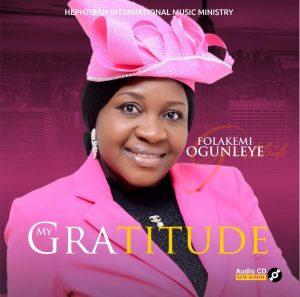 Osun based gospel minister and worship leader Folakemi Ogunleye releases her debut single title MY GRATITUDE a praise medley song from her new released album MY GRATITUDE.
In Her words
"My Gratitude is expressing my appreciation to God Almighty for seeing me through so many battles in my growing up years.I could have ended up some other way but He provided a way of escape and I ended up to be His servant. All glory be God." Folakemi Ogunleye
ABOUT ARTISTE
Ogunleye Folakemi is one of the Nigeria's gospel artists with the call of God upon her life to bless her generation and generations to come with songs which come directly from the throne of grace. She is not only a singer but a composer and writer of songs. She had her first degree in Microbiology and her second degree in Early childhood education in Obafemi Awolowo University Ile-Ife. She released her first album on the 17th of November 2019 which she titled My Gratitude.She is married to Ogunleye Babatope and they are blessed. with children.
DOWNLOAD MP3: FOLAKEMI OGUNLEYE – MY GRATITUDE (PRAISE MEDLEY)