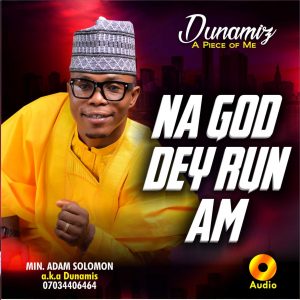 Minister Adam Solomon a graduate of Delta State University, Abraka and of the spiritual sons of Dr. Paul Enenche of Dunamis International Gospel Centre is a song writer, a preacher, a praise and worship leader whose ministrations has been backed up by the Holy Ghost resulting to healing of sickness and diseases, setting of captives free and diverse signs and wonders. To launch into the year 2020, the song writer has decided to give his fans and world at large a four track album culled from a proposed seven tracks album tagged Na God Dey Run Am.
The four tracks are all pointer to the theme of the album from Show Me Favour to the track to which the album was named after Na God Dey Run Am.
When people ask me where my favour comes from, where my success comes from, where my strength comes from I tell them Na God Dey Run Am. Cop the tracks from the album and enjoy.
Download tracks below;