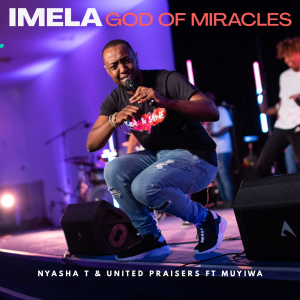 Imela/God of Miracles' by Kent based praise and worship artist Nyasha T and his vocal collective United Praisers was performed at the launch of "Arise and Shine".
Imela and God of Miracles are 2 of Muyiwa & Riversongz most popular songs and have been sung all over the world. It's bright, colourful, full of joy and will definitely get you off your seat.
The song marks the long awaited return of Nyasha T from his 2 year break from music and is dedicated to the late Pastor Michael Olawore (New Wine Church) who died in 2018. "It has been a tough road coming back into music, following the death of Pastor Michael and this is why I chose to release Imela (which means thank you in Igbo) and God of Miracles.
These 2 songs speak to the fact that I am thankful for what God has done for me and also that I still believe even after the tragic death of Pastor Michael that he is a miracle working God".
DOWNLOAD MP3: NYASHA T & UNITED PRAISERS – IMELA/GOD OF MIRACLES FT MUYIWA
WATCH VIDEO BELOW
LYRICS
IMELA
CHORUS:
I will sing of the Lord's great love forever more
With my mouth I will shout for joy forever more
Bridge
Ime Imela Imela Imela
GOD OF MIRACLES
CHORUS:
God of miracles
Na my papa o
Na my papa o
About Nyasha T
Noted as one of the most exciting up and coming UK artists in his genre, Nyasha T is excited to reintroduce his growing fan base to his Zimbabwean roots. Raised in Zimbabwe, the 27 year old spent a year in America before coming to the UK in 2003 and joining the New Wine Church worship team where he honed in on his musical abilities. He is now a worship leader and choir director at New Life Church Canterbury.
'Imela/God of Miracles' will be available on all online platforms including Spotify, Apple Music, Amazon, Google Play and others.
All media enquiries: [email protected], 07380382838