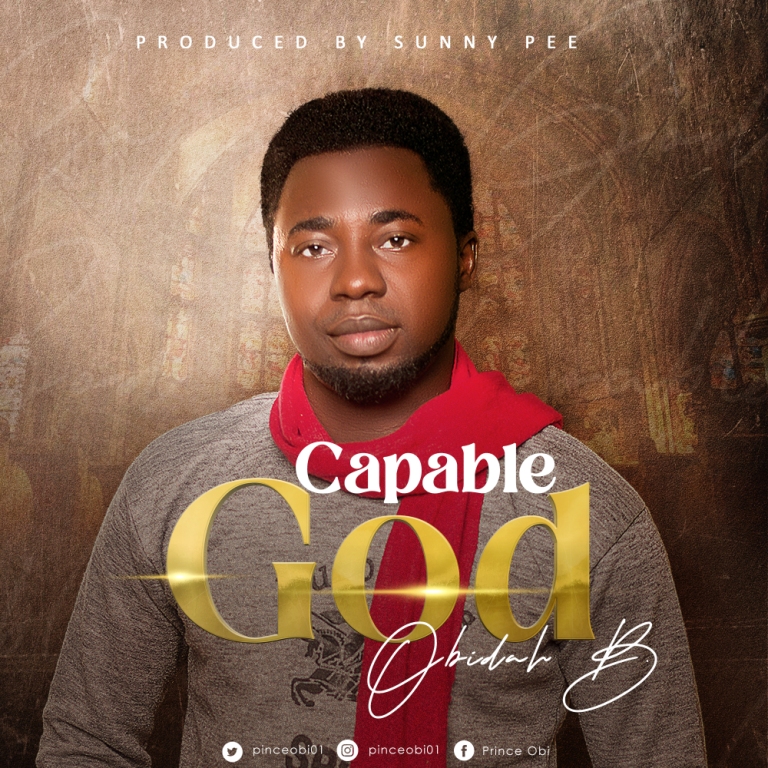 Music minister Obidah B. popularly known as Prince Obi releases a brand new single titled Capable God.
The song Capable God Makes you realize that For nothing will be impossible with God. Luke 1:37. So whatever situations that seems impossible with man, God is capable and in the mist of it all, God is doing miracle.
Produced by Sunny Pee.
GET CAPABLE GOD ON DIGITAL STORES
WATCH VIDEO BELOW
LYRICS:
LEAD
Capable God oo
there nothing you can not do
Supernatural God
You are doing miracles
this song is sample
Capable God oo
there nothing you can not do
Supernatural God
You are doing miracles
INTERLUDE
yeeya
My God is capable
I serve a living God
yee eh
VERSE 1
Mighty Man of war
You are fighting all my Battles
Lion of Judah
You are my Defender
Great and mighty God
There's nothing impossible
For you
Yahweh Yahweh you reign
Yahweh
You are the same yesterday
Today and forever more
There's nothing you can no do oooh
All: Unchangeable God
CHORUS
Capable God oo
Capable God oo
Power
there nothing you can not do
nothing you can no do
Supernatural God
You are doing miracles
Capable God oo
Capable God oo
Yee-ya
there nothing you can not do
Supernatural God
Supernatural God
You Are
You are doing miracles
VERSE 2
You raise the dead
made the blind to see
walk above the waters
You are doing miracles
and you parted the red Sea
You even heal the sick
and you made the lame walk
you are doing miracles
CHORUS
Capable God oo
Capable God oo
yee-ya
there nothing you can not do
oooo
Supernatural God
you are
You are doing miracles
Capable God oo
Capable God oo
nothing impossible
there nothing you can not do
Supernatural God ooo
Supernatural God
you are you are
You are doing miracles
BRIDGE
I see you doing miracles
Yahweh
doing miracles
Yahweh
doing miracle Baba
ooooo ooo oooo
I see you changing Iives today
Yahweh
breaking chains today
Yahweh
today and forever more
oooo oooo ooo
I see you healing broken heart
Yahweh
the lame will walk again
Yahweh
the blind will see agin ooo
oooo ooo ooooo
I see you doing miracles
Yahweh Yahweh Yahweh
Doing miracles
Yahweh
today and forever more
oooooo oooo ooo
CHORUS
yee-eeeeh
Capable God oo
Capable
there nothing you can not do
my God is capable God
Supernatural God
you are
You are doing miracles
Capable God oo
capable God oo
Capable capable
there nothing you can not do
capable God ooo
Supernatural God
you are you are
You are doing miracles
My God is capable God oo
Capable God oo
yee-ya
there nothing you can not do
nothing you can not do
Supernatural God
Nothing impossible
You are doing miracles
nothing you can no do God
capable God oo
yeeya
there nothing you can not do
yeeaaa
supernatural God
supernatural God you are