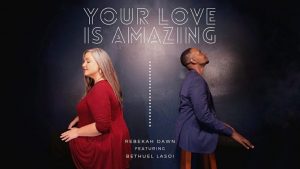 American by birth, but Kenyan by heart as she likes to say, Rebekah Dawn is back with the official music video for "Your Love Is Amazing" which features Bethuel Lasoi.
May your heart be stirred and reminded of God's incredible love.
If you have wandered, may you be drawn back.If you are discouraged, may you be uplifted.
And if you have grown familiar with His amazing love, may you be filled with wonder again.
It doesn't matter who you are, what you've done, where you've fallen short…He loves you. He always has. He always will.
"My thanks to my brother and friend, Bethu, for singing with me. Also to my husband, Allan, for the incredible video." – Rebekah Dawn.
WATCH VIDEO BELOW