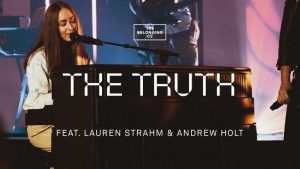 Watch the official live video for "The Truth" featuring Lauren Strahm and Andrew Holt recorded live at The Belonging Co. "The Truth" is a bold new anthem that unashamedly declares Jesus is the only way, truth, and life. This worship moment serves as a compass, pointing the Church back to the basis of our faith, our due North, Jesus Christ.
"The Truth" is now available. Click here to listen to it on your favorite music platform.
WATCH VIDEO BELOW
LYRICS
VERSE 1
What could take away the sting of death?
Only a love I hadn't met
What could cause this restless heart to rest?
Only the promise that You kept
PRE CHORUS
For so long I was searching for truth
When all along I was searching for You
Then You opened my eyes
CHORUS
You opened my eyes to see You Lord
Oh I was blind to love before
You opened my heart to know the truth
Now all I see is You
All I need is You
VERSE 2
What can cause the broken things to heal
Only a power that is real
What can cause the prideful heart to kneel
Only a grace that none can steal
BRIDGE
There is only one Name, who conquered the grave
Only one way my soul can be saved
Only one truth, only one life
Jesus Christ
Jesus Christ