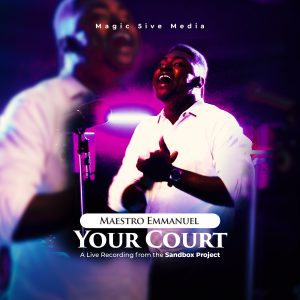 "Scriptures in Hebrews 4:16 shows us that, we should approach God's throne of grace with confidence, so that we may receive mercy and find grace to help us in our time of need.
Our interactions with the Lord in the Courtroom of Heaven are centered around prayer and intimacy.
God gave me this sound, when everything wasn't adding up. Too many questions before me left without answers and He said 'come in'.
Those answers you seek, are in the court, come therein.
Am glad i finally can share with the world.
Special thanks to my producer Dr. Sirme and all the great men and women behind the SAND BOX PROJECT. Get ready to be blessed by this piece, Jesus is glorified forever." – Maestro Emmanuel
DOWNLOAD MP3: TSBP & MAESTRO EMMANUEL – YOUR COURTS
WATCH VIDEO BELOW
ABOUT PROJECT
The Sandbox Project (TSBP) is a live-recorded collective worship project from Kano State, North Western Nigeria.
The project features personally written songs from seasoned music Pastors and Ministers like Pastor Cousin Victory of the Potters House Family Choir, Apostle Gabriel Solomon of the Fellowship of the Undefiled, Minister Maestro & Sounds of the spirit, Minister Shalom Obosa.
Recorded at Kano, and Produced by Samaila Saleh (Dr SirMe) with a number of few worshippers in and around the city in attendance, the album is described as a beacon of hope for northern worship. Every piece from the album was inspired by the Holy Spirit in a place of worship. May the testimonies that birthed these sounds and efforts put into this project bring you an atmosphere of miracles and soothing relief as you watch and listen.
ABOUT ARTISTE
Maestro Ojonugwa Emmanuel is a lover of God, a prolific songwriter, worship leader and Award winner of the 2018 Rthythm Music awards with Mayamaya music international.
He is holds a Bachelors degree in Biolgical sciences and a Music Diploma from Riverdale Music Institute.
With a music career spanning over a decade, His recent songs include:
You are God
Oh Yah Yah
Your Nature, amongst a few others