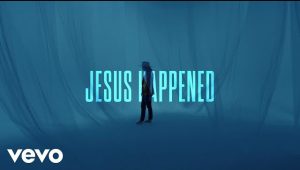 There is no perfect definition to when all of a sudden the barren became a mother of children, the blind man immediately starts seeing, the condemned and written off becoming sought after than the definition that Jesus happened.
Get this beautiful song by Baylor Wilson and expect Jesus to happen in your life, for you and through you.
Download link, lyrics and video are all available with the link below.
WATCH VIDEO BELOW
LYRICS:
What happened to you
I hear it all the time
They tell me somethings different
In my words and in my eyes
What happened to you
They see it on my face
They've got a million questions
All that I can say is
Jesus happened
In a blink of an eye
Every part of my life was changed
Jesus happened
Like a thief in the night
He started taking the lies away
And all my sin was forgiven
The moment I met His grace
That's when I started living
And all that my heart can say is
Jesus happened
What happened to you
I smile every time
I tell them it's a miracle like water into wine
Cause everything's new oh
The old is dead and gone
Redemption is my story
Resurrection is my song
Jesus happened
In a blink of an eye
Every part of my life was changed
Jesus happened
Like a thief in the night
He started taking the lies away
And all my sin was forgiven
The moment I met His grace
That's when I started living
And all that my heart can say is
Jesus happened
Oh
The grave gave way
To life everlasting
I'm found
I'm free
Raised up from the ashes
Jesus happened
In a blink of an eye
Every part of my life was changed
Jesus happened
Like a thief in the night
He started taking the lies away
And all my sin was forgiven
The moment I met His grace
That's when I started living
And all that my heart can say is
Jesus happened
Jesus happened
And all that my heart can say is
Jesus happened