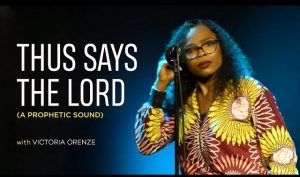 Gospel music minister Victoria Orenze who just celebrated her birthday not quite long drops off a prophetic song which is titled "Thus Says The Lord".
While sharing this new song, she said The words and the sound of this song was given in the middle of the night. 
And I declare the word of the Lord over your life, your homes, your marriage, your health, your business, your situation everything that concerns you
Thus says the Lord;
WATCH VIDEO BELOW
LYRICS
Dry bones are rising rising in Jesus name.
Dry bones are rising rising
Strongholds are breaking breaking in Jesus name
Strongholds are breaking breaking
Mountains are moving moving in Jesus Name
Mountains are moving moving
Giants are falling falling in Jesus name
Giants are falling falling
Red seas are parting parting in Jesus Name
Red seas are parting parting
Valleys are filling filling in Jesus name
Valleys are filling filling
Levels are changing changing in Jesu name
Levels are changing changing
Armies are rising rising in Jesus name
Armies are rising rising
In the matchless name of Jesus Christ. Hallelujah