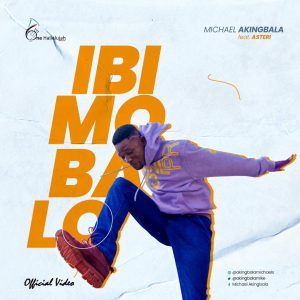 Nigeria Gospel artiste, worship leader, and composer; Micheal Akingbala releases a new Yoruba titled single tagged "Ibi Mo Ba Lo" featuring Asteri.
The song which finds its root in deep Yoruba language translates as "Anywhere I Go" in English.
Micheal who is signed into One Hallelujah Records, collaborates with minister "Asteri" (Esther Obaleye) and together did their best to mouth and express what it feels like to operate under the presence of God.
This melodic reggae tune collaboration loudly proclaims themes of inspiration, expectation, and transformation to confirm that "God is in charge."
DOWNLOAD MP3: MICHEAL AKINGBALA – IBI MO BA LO FT ESTHER OBALEYE
WATCH VIDEO BELOW
LYRICS
Almighty God
I know you hear me
whenever i call
You're always with me
Everywhere i go
Maa so mi lo o
Maa so mi o
Lehin Olorun Olorun ni o
Lehin Olorun Olorun
Lo tun n ku
Imole nl
laa rin okunkun aye /2x
K'osohun t'osoro fun o (Baba Agba) /2x
Olorun ni o o
Okin n se /2×
Bi mo se n pe
Bee lon n jemi
Bi mo se n pe
Bee lo n dahun
CHORUS:
Ibi mo balo maa ba lo
Ibi mo ba wa /4X
VERSE 2
Mo gbo ju so ke si o
Odo agun tan
Mo gbo ju so ke si o
Oba t'o ke se mi lo
Oku ni to ri mi
Kin ma ba ku o
O fara gbe gba
Ka ma ba na legba
Oji ya ni to ri mi
Kin ma ba jiya rara
Oji ya ni to ri re
Ko maa baa ji ya rara o