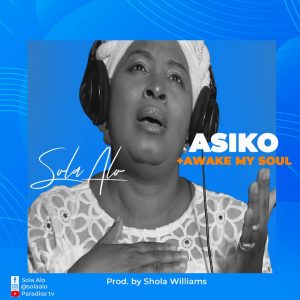 Nigerian female Gospel Singer Sola Alo Serves up two new singles titled Asiko and Awake My Soul was produced by Shola Williams. Sola is Writer, lawyer, an actress, a film producer, a music Writer/composer and a talented gospel singer.
She has produced many albums and gospel hits over the years. She has created lots of inspirational songs into the Nigerian music industry. She is currently the CEO of a record label called PMP "PARADISE MUSIC & FILM PRODUCTION" a subsidiary of "paradise of truth ministry".
These are songs you should have on your playlist. Listen, Download and Share with friends thanks.
DOWNLOAD MP3: SOLA ALO – ASIKO
LYRICS – ASIKO
INTRO
ohun titun, ohun titun toju Ori ri,
Tenu ogbori baba sefunmi lodun yi mo mobebe, mobebe lodo re oluwa..
CHORUS
Asiko Tito oluwa
K'ogo mi buyo
Gbemi sita oluwa ,fimi han faraye
(Fimi han faraye oluwa)
VERSE 1
sebi aba wa fun igi ta gelori
Eledua mobebe
RESPONSE
bomi Rin ogo mi,
Koruwe titun Jade
Bomi Rin ogo mi ko ru we titun Jade.. (2X)
CHORUS
Asiko Tito oluwa
K'ogo mi buyo,
Gbemi sita oluwa fimi han faraye
SOLO
fimi han faraye, fimi han faraye
RESPONSE
gbemi sita oluwa fimi han faraye
SOLO
fimi han oluwa k'ogo mi buyo faraye
RESPONSE
gbemi sita oluwa fimi han faraye
SOLO
jekale mi sanmi ju owuro lo (2X)
RESPONSE
Fayegbami kin d'olola kin d'oloro laye,
Mobebe lodo re oluwa
CODA
Àmín àmín ona ala fun mi,
Àmín àmín jek'ale mi San mi ju owuro lo
Àmín ooooooo
DOWNLOAD MP3: SOLA ALO – AWAKE MY SOUL
LYRICS – AWAKE MY SOUL
VERSE 1
awake my soul to glorify the true God,
Awake my heart to glorify the mighty king,
For his good and his mercies endureth forever,
Awake my heart to glorify the mighty king
CHORUS
Holy , holy, holy
Is the lord of host (2X)
The Earth is full of your glory, holy holy;
The Earth is full of your glory holy holy
SOLO
mimo ,mimo ,mimo mimo, mimo oooo
MODULATION
CHORUS
Holy , holy, holy is the lord of host
Holy holy holy is the lord of host,
The Earth is full of your glory holy holy, the Earth is full of your glory holy holy
Mimo ,mimo mimo
S'olodumare, ni kutukutu niwo yio gbo Orin wa…
Mimo mimo mimo,
Soniyanu julo
Ologometa ,Lai olubukun
The Earth is full of your glory holy holy,
The Earth is full of your glory holy holy