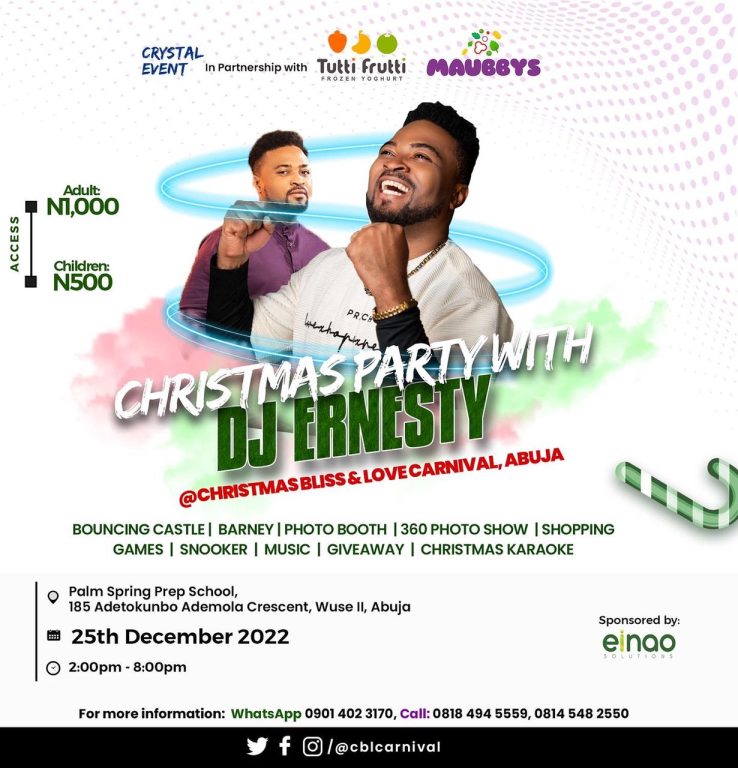 Are you ready to celebrate Christmas with DJ Ernesty at the Christmas Party with DJ Ernesty on December 25th?
This festive event, hosted by gospel music DJ Ernesty, will take place at Palm Spring Prep School in Abuja and is sure to be a fun-filled afternoon and evening of holiday cheer for music lovers of all ages.
Activities at the party will include a bouncing castle, Barney show, photo booth, 360 photo show, shopping games, snooker, and Christmas karaoke. Ernesty will be on the decks, playing a mix of gospel hits and party favorites. Doors open at 2pm, and the party will run until 8pm.
Ticket prices for the event are 1000 naira for adults and 5000 naira for children.
"I'm thrilled to be hosting the Christmas Party with DJ Ernesty this year," says DJ Ernesty. "It's going to be such a special day, and I can't wait to share the joy of Christmas with all of our guests."
For more information, or to purchase tickets, contact DJ Ernesty at [contact details]. Don't miss out on this unforgettable afternoon and evening of music and holiday cheer at Palm Spring Prep School in Abuja!