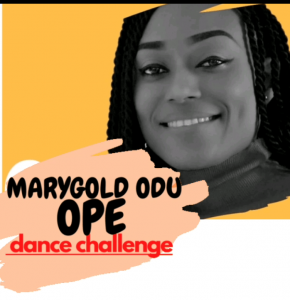 Where are my dancers? Brace Up and win 10k Weekly for the Marygold Ope Dance Challenge!!!
The Praise -Marshal as Marygold Odu is fondly referred to by her teeming fans released her Praise-partying single.
OPE about a month ago ,a fantastic thanksgiving melody. A powerful song which is breaking barriers hence the expedience to raise the bar with a dance challenge which shall be running for 2weeks with a weekly cash Prize of 10k for the winner respectively.
The Challenge which is billed to run from the 30th of March to April 12th 2020 is a strictly dance battle with a weekly cash reward of 10k for the crowned winner(s).
In the Words of the Ope Crooner; "I want to use this dance challenge to encourage young talents to keep up with their talents and hold on to their dreams."
Terms/Conditions of challenge
Download OPE by MaryGold, DOWNLOAD HERE
MMake a video of a solo/group dance
Upload a 60sec video on facebook and Instagram of you/group dancing to the song OPE by Marygold Odu
Invite your friends to like your video
Follow and tag @marygoldodu and @impactradio.ng
Use the official hash tags #marygoldodu #marygoldodu #marygoldoduopedancechallenge #Impactradiong
The video with the most likes gets the cash prize weekly.
Congratulations!