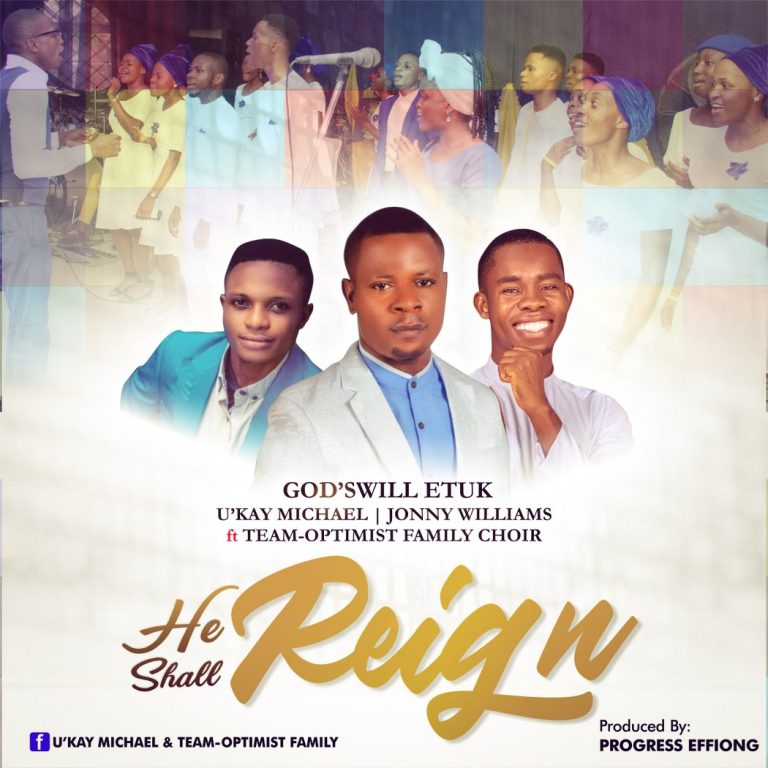 The TEAM-OPTIMIST CREW is an interdenominational gospel musical family based in the City of Uyo Akwa Ibom State.
The crew has been a blessing to the body of Christ since 2018 till date.
U'kay Michael, The Visionary of this great family is a Gospel Minister; Word and Music, who believes that singing Gospel music are ministering to the body of Christ in melody, for joy, revival, spiritual reflection, intimacy, worshipping with thanksgiving for Godly assurances, which has remained his watchword for many years till date. The Crooner of BO EKOM DO & EDISE IMA ABASI.
Gods'will Etuk is a worshipper who is so focused on being sure that he is responsive to the call of receiving and releasing sounds of worship to the body of Christ to the worship of the Supreme.
Jonny Williams is a dynamic Gospel Minister, very talented and skillful when it has to do with Music. He is also a member of this great family.
HE SHALL REIGN is a sound of worship, strategically arranged and delivered by the personality of the Holy Spirit, through God, to the body of Christ.
He Shall Reign was received and written down, by Min. Gods'will Etuk, produced by Progress Effiong, and arranged by the Team-Optimist Family.
Listen and Download Mp3 Below;
He Shall Reign Lyrics:
He is Jesus
Son of God
He shall reign forever
Chorus:
He shall reign forever
He shall reign in majesty
He is Jesus
Son of God
He shall reign forever
Spoken Words:
He is the King of kings;
The Prince of prince
He is the Messiah;
The Living Water
But while He was on the cross for our sake,
He was thirsty;
Requesting for water to drink
But in place of water
They offered Him veneger
His life was sacrificed;
His body was crucified,
Now we the beneficiaries of His death,
Have come to sing this song unto Him,
He shall reign for ever.