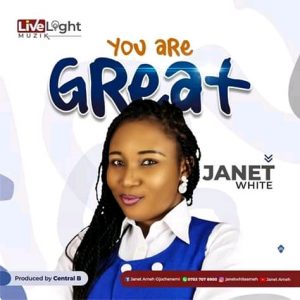 Nigerian Gospel Music Minister Ameh Janet Ojochenemi popularly known as Janet White releases new single 'You Are Great'.
You Are Great is an inspirational song birthed at the place of prayer, which reveals the beauty and the Glory of the Lord.
The song speaks of the greatness of the Lord and an anthem that will proceed from the lips of all in a worship procession in heaven with the angels, twenty four elders, Cherubim and Seraphim's bowing to in reverence to one Supreme God.
Janet is a graduate of Business Administration from Kogi State University Ayingba. A devoted lover of God, songwriter, praise and worship leader, teens teacher and more. She is based in Kaduna State with her family.
DOWNLOAD MP3: JANET WHITE – YOU ARE GREAT