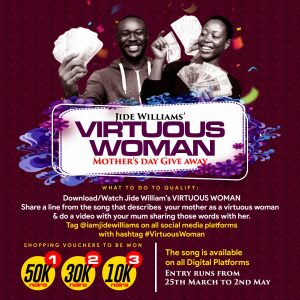 In commemoration of the international mother's day US based minister Jide Williams is set to gift over 100k to mothers/wife in the Virtual Woman's Challenge.
Jide released his brand new single 'Virtuous Woman' in February accompanied with a breathtaking visuals. The song was anchored on Proverbs 31, and speaks on the very many sacrifices women give to keep the family together, depriving themselves of so many things.
TO PARTICIPATE IN THE GIVEAWAY
 Follow Jide William on Instagram @iamjidewilliams
Subscribe on Youtube (Jide Williams)
Watch the Video HERE
Pick a line or more that best describes your mother/Wife
Make a minute video reciting that part to your mother/wife
Mention Jide Williams on IG & Use hashtag #VirtuousWoman
Get your friends to like the reposted post on IG
PRIZES TO BE WON
First Prize N50,000
Second Prize N30,000
Third Prize N10,000 & Many other consolation prizes
Winners will be announced on May 2, 2021
Supported by Switch Music & Entertainment.
Jide Williams to give out over 100k voucher in celebration of International Mothers Day