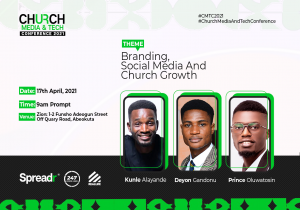 Fast-rising digital media community, Spreadr Nigeria is launching the first edition of its training conference tagged Church Media & Tech Conference for media teams and members across all churches in Nigeria with its maiden edition holding on the 17th of April in the Rock City of Abeokuta, Ogun State.
The organization with the sole aim of equipping and training media teams of churches to grow into professionalism and also helping them build a constructive online and On-site ministry. The organizer's Prince Oluwatosin and Kunle Alayande had said the conference is a unique training programme which promises to influence the growth of churches and also relief in its branding and online packaging.
The first edition of the conference which is scheduled to now hold at Zion:1-2 Adeogun Street, Quarry Road, Abeokuta will be hosting speakers, brands specialist, and digital professionals who have wealth of experience in their fields. The speakers include the author of The Digital Church and the CEO of 247 Gospel Vibes, Prince Oluwatosin who has been in the digital business and branding for close to a decade.
Kunle Alayande, a Media Entrepreneur and the Lead Pastor of Real Life Christian Center will be joined by photographer, creative director, and co-founder of The Church Media Academy, Deyon Gandonu as they speak at the conference which is themed "Branding, Social Media and Church Growth".
The conference which is the first of many has registration packages that include a N2000 for a member and N6000 for a team of four. The link for registration is (the link)
The benefits lined up at the one-day conference include a proper understanding of church branding and how to effectively manage your church's social media platforms, access to a community of professionals for continuous support, idea sharing, engagement for church's online platforms and training manuals.
With the use of social media and technology rising daily across the world, the church needs platforms like this to equip, furnish and prepare its media team towards making use of the internet to spread the gospel, increase the kingdom and influence the world.
Register for Church Media and Tech conference via link below.