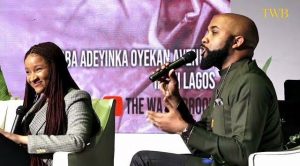 Nigerian actor Adesua Etomi and her husband Banky W a music artist and minister serving at the Waterbrook Church, revealed during a sermon/testimony that they have gone through the IVF process and got pregnant with twins before the birth of their baby boy Zaiah.
The pregnancy of baby Ziah came after two and a half years of waiting and trying to conceive. Adesua and Banky W revealed that this was a tough moment for both of them.
"We were insulted and mocked every single day for two and a half years before the birth of our son, I could no longer give my opinion without having one person telling me to go and have a son, I heard all manners of talks you are barren, you did something with your womb" Adesuwa said during the interview; Banky quickly chipped in how he was mocked and insulted as being impotent.
Everytime the insults and mockery comes I go back to God and tell him "father lord, they know I serve you, so it is you they are mocking and not me".
Yesterday, @AdesuaEtomiW and I shared a little bit of our story in Church… it might make you laugh or cry. But here's hoping it will also help you heal and build your faith. Please watch & share "Final Say Faith" the story behind the song: https://t.co/62lhMKY20R

— Banky Wellington (@BankyW) April 5, 2021
Adesua also revealed that her mother is a pastor and being a pastor she has seen different people who are waiting for the fruit of the Womb and the pain and agony they go through and seeing that she has always prayed not to go through such pain.
Adesua at The Waterbrook Church in Lagos, on Easter Sunday 2021, where the testimony was shared also added that by the end of their one year in marriage, they tried IVF and she got pregnant with twins.
"We got pregnant, we got pregnant with twins, we did the scan, we saw the heartbeat and only few people knew when thir happened. Everything was fine but during one of the routine check-up at the end of the first trimester, I saw the doctor face not too happy and the nurse had a funny face as well. I asked what was wrong and the doctor said I can't find the heartbeat" Adesuwa revealed.
Adesua speaking further said, I and Banky W decided to pray and wait for days before going back to the hospital, but the babies did not make it.
"I remembered leading her up the stairs after the evacuation, we were on the couch, I held her hands, and we cried." Banky W revealed.
After the first round of IVF, the couple revealed they made a second attempt which also didn't work as well, the doctors revealed that Adesua had Polycystic Ovarian Syndrome (PCOS) and her ovarian reserve have become too high and Banky W sperm Morphology were off.
I prayed for my healing then my ovarian reserve returned to normal, then the doctors were afraid because the healing happened too soon. Then they started bringing up all sort of suggestions; "maybe you are loosing all your eggs, let's have them removed" "maybe you're getting into early menopause" that was the moment we had to call it over.
Adesua said she and Banky decided not to go on with the process again. She decided not to take any drug or injection again, if God blesses them with a child, FINE, if not, then there's something else God has planned out for them..
When she conceived in 2020 without any medical help, Adesua said, "I remembered just staring at the stick, not like in shock but on confirming the pregnancy through the stick I said Olubankole, Jesus has done it".
Adesua revealed she's sharing her testimony because so many women go through this kind of pain and problem, but people rarely talk about it. Her other reason of sharing the testimony was to help build the faith of others who may be going through such a difficult time.
WATCH THE FINAL SAY FAITH SERMON BELOW