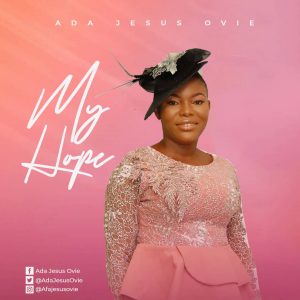 Mitovieya Ada zudonu Popularly known as Ada Jesus Ovie a gospel music sensation; drops her debut single titled "My Hope" produced by Engr. Ossy Umuahia
The song is a spiritual song that reaffirms God as our first and last resort and our Surest Foundation.
It is a very timely release, in this crisis where every nation's of the world are struggling over the pandemic of this virus and the pain it has caused a lot of home, Our hope is in you Jesus, Ada Jesus, a song Minstrel advice us put our hope in God, trust in God only, he promised not to leave us nor forsake us, God is the only one who has the power to deliver, and he promised to deliver us if only we can put our full trust on Him, he will surely deliver us, this is a song for the season, a song for the world, a song for everybody, an everyday song and so evergreen indeed.
Ada Jesus hail from river's State and married to Mr Adefemi Gbenga in Ekiti state.
Ada Jesus got involved in music at a very early age, being a member of the children's choir in her church and transitioning to the adult choir now a worship leader in her local church RCCG.
DOWNLOAD MP3: ADA JESUS OVIE – MY HOPE