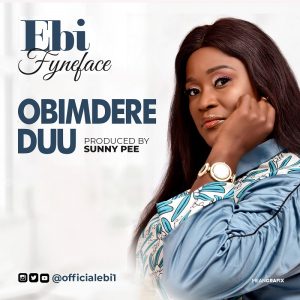 Pastor Ebi makes a comeback after the release of Hallelujah in September 2020 with a heartfelt song titled 'Obim Dere Duu'.
Obim Dere Duu is a song that expresses joy, peace and excitement knowing that God has got you.
It captures the rest we enjoy knowing that God has a good plans for us so our heart is at peace and rest.
Ebi prior to this new single has released a number of records like Tamara Feat Kingsley Ike, Lord You Reign, Hallelujah, Yahweh Feat FaithYebo Gidia, EuniceMorgan, Chimo-obi moo Feat Chris Morgan, higher, Give Love, and many others.
Ebi Fyneface, is a graduate of Public Administrator from the University of Abuja, a devoted lover of God, recording Gospel artiste, songwriter, author of lots of books, CEO of AYIS Beauty Touch Salon and Fyne Makeup Studio, founder of DZion Sisters Fellowship & Mount Olives Fellowship International, and (HavenICC)
DOWNLOAD MP3: EBI – OBIM DERE DUU
LYRICS
When I think of the goodness of Jesus
And all He's done for me
When I think of the mercies of the Lord
My heart rejoice my soul will sing
Obim Dere duh
Obim Dere duh
Chukwu maa eyonma o gemere moo obim Dere duu your mercies are new everyday
CHORUS 2x
Oh thank you jehovah, Lord I give you all the praise and all the honor, You've been so faith faithful to me that my heart do not dear because I know that which you are able to do exceedingly
All fear is gone
Victory is mine
The Lord has conquered it all
My heart is at peace
Lord I am grateful
For your thought for me is goodness
CHORUS